How to Make Easy and Colorful Homemade Bookmarks from Washi Tape
It's no secret that washi tape makes my heart sing, And these easy homemade bookmarks make my heart leap and  sing hallelujah!
But all kidding aside- they are quick and easy to put together and would be perfect for girls youth group, children's crafts or for decorating your bible.
Who doesn't need a little more bling in their bible?
I love to crack open my bible and see the creative work of my hands that glorify the Lord- it's because God has created me to create just like He has also made you.
You probably wouldn't be reading this if that wasn't the case, right?
(As an Amazon Associate I earn from qualifying purchases.  Please see my full disclosure here.)
Supplies for your Cute Homemade Bookmarks
The supplies are super simple to make these cute homemade bookmarks.
You'll need:
Scrapbook paper or card stock for your base that matches your washi tape
Washi Tape of various colors, sorts and thicknesses
Scissors or a paper cutter
Ruler
hole punch
corner rounder
embroidery thread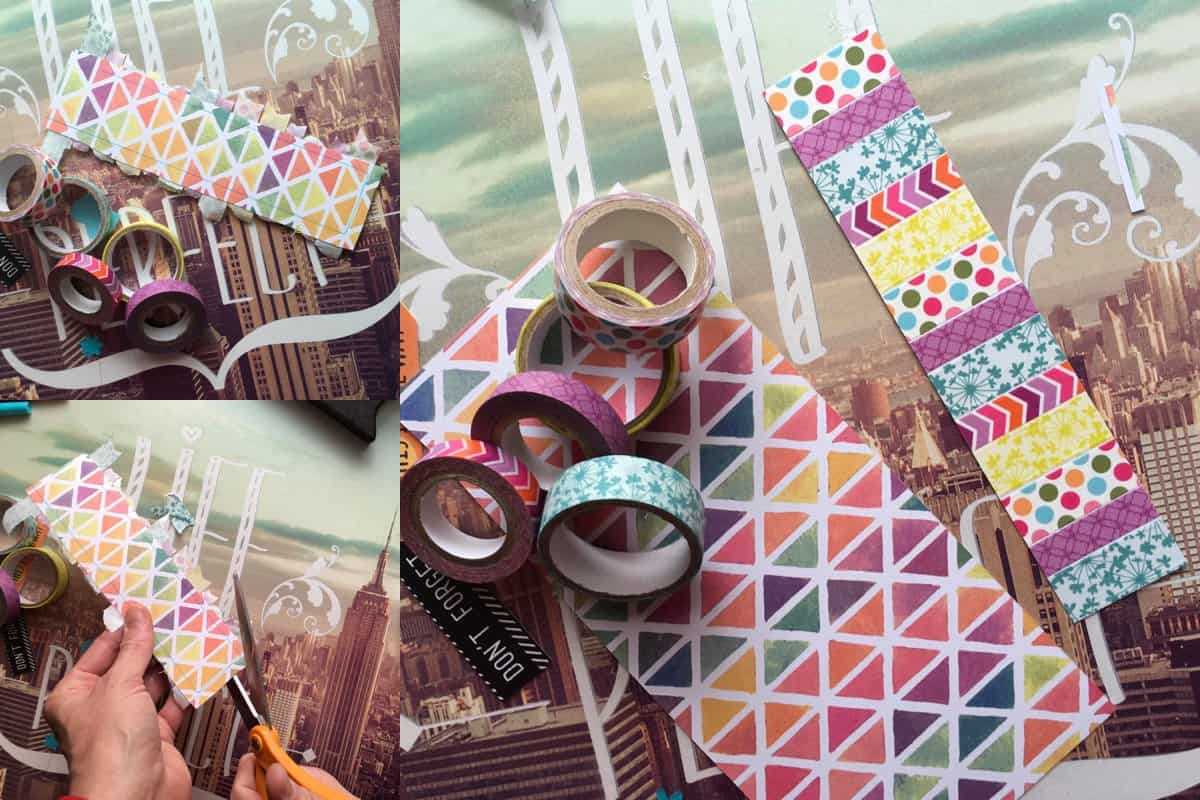 Traditional bookmarks are usually around 1 1/4 inch by 6 inches but you can make yours as long and wide as you desire.  For this blog post, my examples will be the above measurements.
I use my ruler to lightly trace my pattern onto my card stock with a pencil.  Then I roughly cut out the bookmark leaving about 1/2 an inch on all sides to trim later.
Turn your bookmark over so your pencil marks are on the bottom and lightly trace the rectangle on the opposite side of the paper as another guideline.  You might have to hold your paper up to the light so the lines show through.
Hey Creative Sister!  Check out these other Creative Resources! 
Place your washi tapes in a pleasing design extending over the lines.  You will be cutting the excess off later.  You can place your washi tape in a diagonal or horizontal fashion.  You can also leave space between washi strips or butt them up against one another.  The choice is yours.
After you have placed your washi over your rectangle in a pleasing manner on one side,  cut out your bookmark with a scissor,  exacto knife or rotary cutter set.  Round your corner with a corner chomper.
Make your tassels with embroidery thread (blog post coming soon) or you can buy some silky tassels.
I hope you enjoy making these easy homemade bookmarks from washi tape and I would LOVE to see the creative work of you hands!  Please leave a comment and/or tag me on social media.
SaveSave
SaveSave
SaveSave
SaveSave
SaveSaveSaveSaveSaveSaveSaveSave
SaveSave
SaveSave
SaveSave
SaveSaveSaveSave
SaveSave
SaveSave
SaveSave
SaveSave
SaveSave
SaveSave
SaveSave