Inside: Check out this great tutorial on how to make a creative washi tape Bible divider tabs
I flip through the pages of my Bible and I smile.  Yeah, I'm corny like that.  
My bible reflects WHO I am and who God has made me to be-  CREATIVE!
I am created to CREATE!
Isn't that like you, lovely friend, where your God given creativity oozes out to every area of your life?
What's so great about decorating your bible is that it's NOT only aesthetic- it's functional as well.
It's the same with these DIY Bible Divider tabs- they are more than just a decoration.  They functionally seperate all of the 66 books of the Bible in a creative and fun way.
And like I said before, these DIY Bible tabs just make me smile from ear to ear.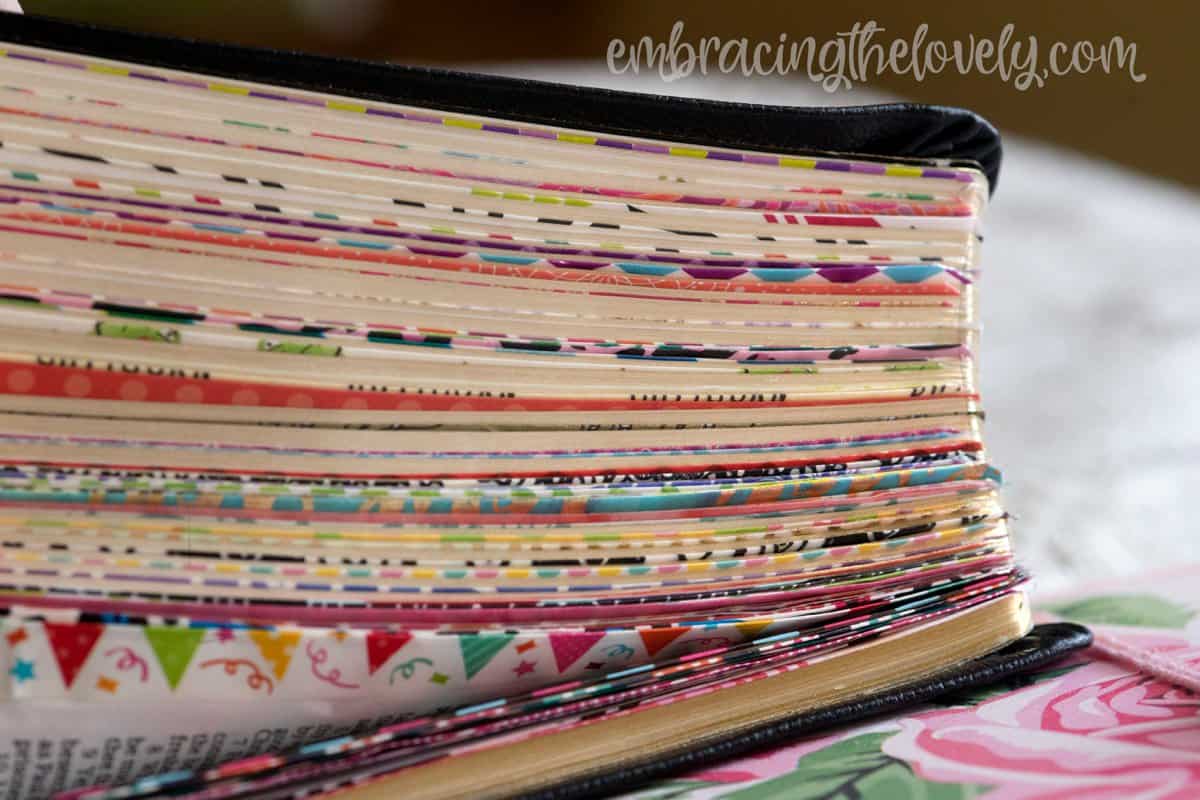 Creative Washi Tape Bible Divider Tabs Tutorial
I'm so glad you are here to join me in this super easy craft that would be perfect for any creative adult, young adult, or child. It also would be a great craft for a women's church fellowship or for youth group.
(As an Amazon Associate I earn from qualifying purchases.  See my full disclosure here.)
Supplies to Make Washi Bible Divider Tabs
These pretty washi bible tabs take only a few supplies,  4 to be exact.
You'll need:
your bible- this can be your journaling bible or your regular bible.
a variety of washi tapes
a pair of craft scissors
a corner rounder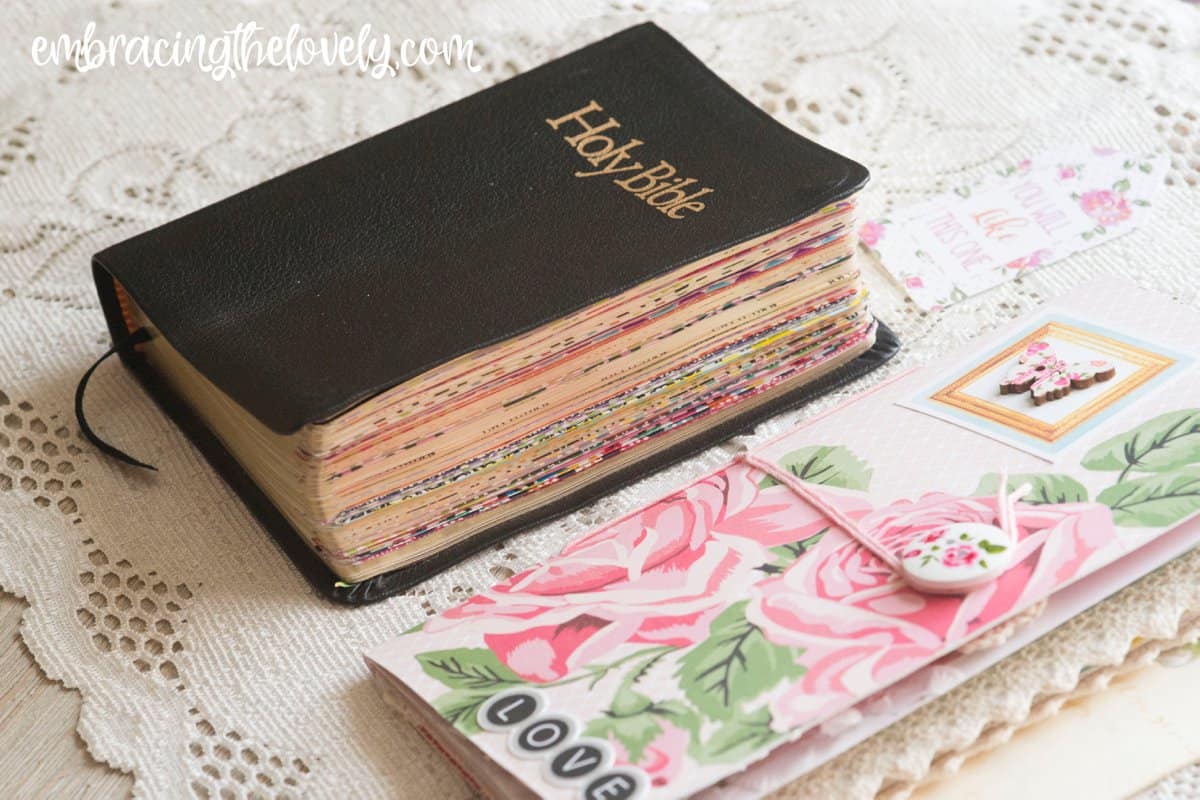 Easy Instructions to Make Washi Bible Divider Tabs
Cut your washi tape off the roll, making sure to rip off a piece that is longer than the length of your Bible pages. You'll definitely need more than you will use- it's better to be safe than sorry since you'll use the bits of washi that are hanging off the side.
If you like a more rustic look, you might want to embrace the torn off look like I have in many projects- the preference is yours!
Align and place your washi tape on the edges of each page where a new chapter begins in your bible.  Fold the tape over, taking care to make sure that you're not taping two pages together- ask me how I know!
Washi tape is very forgiving and can be removed and replaced most of the time. Just be gentle if you have to remove and reposition it.

If you have a blow dryer,  you can heat up the tape before removing it.  If you're anything like me, imperfection is my byword and there will be little ripples here and there.
Trust me, perfection is overrated!
Using your scissors, cut off the excess to make the washi tape flush with the Bible pages.

You can also use a corner rounder
And there you have it lovely friends! Your bible is now a more personalized version of your creative self! Don't you love embracing and being exactly who God has created you to be?
Hey Creative Sister! Check out these other Creative Resources!
If you'd like to see how I add washi tape and round the corners, watch my video below.
I can't wait to see your creative washi tape bible divider tabs!  Can you do me a favor?  Could you leave a comment  with a link to what you've made or share a link over on the facebook page?  I would LOVE to see your DIY Bible tabs!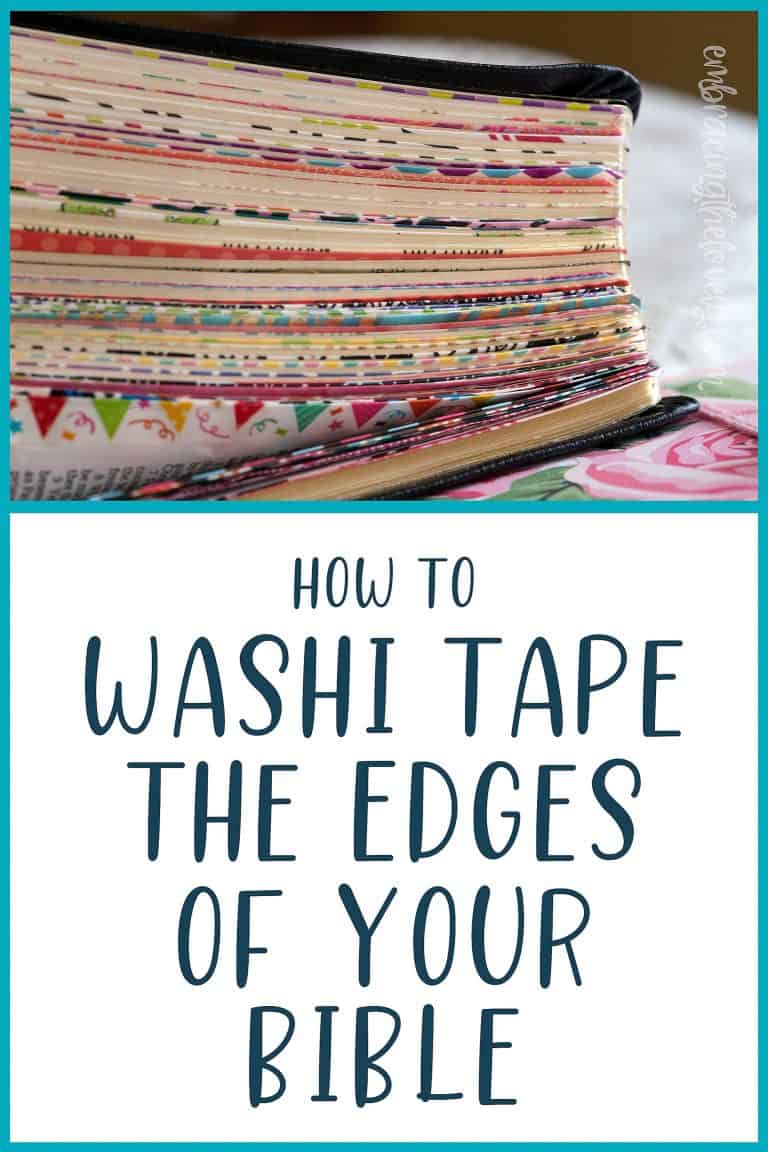 SaveSave
SaveSave
SaveSave
SaveSave
SaveSave
SaveSave
SaveSave
SaveSave
SaveSave
SaveSave
SaveSave
SaveSave
SaveSave
SaveSave
SaveSave
SaveSave
SaveSave