I keep a stack of paper plates handy in our Children's Church classroom since they make a great foundation for SO many easy paper plate crafts for kids.
These Bible Lessons can be put together with paper plates and supplies that you most likely already have on hand with very little preparation… and let's face it… sometimes we don't have a ton of prep time
(As an Amazon Associate I earn from qualifying purchases.  Please see my full disclosure here.)
I absolutely love all of the wonderful paper plate crafts for kids that can be made with a little creativity and some construction paper,  glue sticks, markers, crayons and optional paper punches.  (Other paper punches used in these craft projects can be found here.  The butterfly punch can be found here.
3 Paper Plate Crafts to Grow Your Kid's Faith
Flower Basket Craft and the Newness of Life (2 Cor 5:17)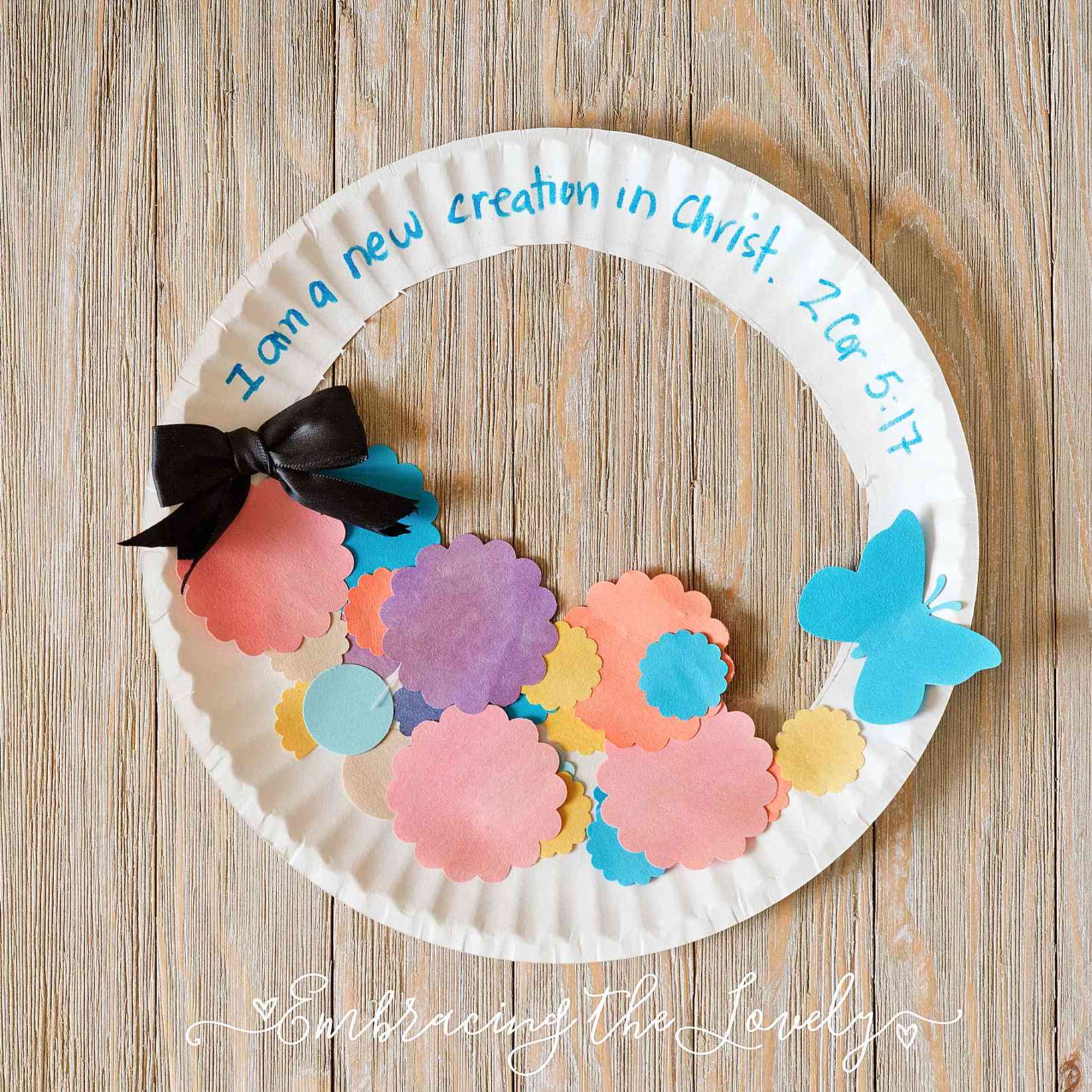 The first lesson, at right, using the flower basket paper plate was a spring lesson illustrating the new birth.  Spring is a time when new growth appears and seeds germinate and turn into beautiful and abundant flowers.  What a wonderful way to illustrate the truths of our new birth in II Corinthians 5:17.
It is my prayer that your spiritual flower basket be filled to overflowing with His Wonderful Blessings!
Process-  With a pencil, draw a circle on the inner rim of your paper plate and a straight line across the center of your plate. Cut out one half from the center of the plate.  Cut out a heap of flowers with your flower punch and let your kids paste their flowers into their basket.  Add a bow and butterfly!
Pizza Craft- Taste and See that the Lord is Good- Psalm 34:8
Ask any child what their favorite food is, and chances are,  one of their top answers will be pizza.  Who doesn't love a slice of pizza?
Earthly food can never satisfy the hunger of a soul that is in need of Him.  God beckons us to taste and see that He is good!  Have you tasted His wonderful goodness?
Process-  Our class smeared red acrylic paint as a base sauce all over our plate. I use a hot air gun to speed the drying process.  We cut out olives, cheese and green peppers from brightly colored construction paper and glued them on after the paint dried.
Umbrella Craft- All things work together- Romans 8:28
Hardship comes to us all as faithful believers.   This brightly colored paper plate umbrella reinforces the lesson that all things do work together for the good (Romans 8:28) and that God sends rain to both the just and unjust. (Matthew 5:45) We can always take refuge in God's truth kn0wing that our trials will make us stronger in the Lord and draw us near to Him.
God's umbrella of grace covers us even in the most difficult of times.
Process-  Have the kids cut their paper plates in half and color them brightly.  Cut out some paper 'raindrops' in your preferred shape and fasten them to your umbrella with some Christmas ribbon.  Add a handle and glue it to the umbrella.  Tada!
Hey Creative Sister! Check out these other Creative Resources!  
I hope these three faith crafts prove to be a blessing to you and your kids!
SaveSave
SaveSave
SaveSave
SaveSave
SaveSave
SaveSave
SaveSave
SaveSave
SaveSaveSaveSave
SaveSave
SaveSave