How to Add More Ribbons to Your Bible With This Bible Ribbon Bookmarks Tutorial
Every single bible I've owned had one ribbon tucked into the spine of the bible.  Every Single One. When I did topical bible studies,  I thought it would be nice to have multiple ribbons to keep various places while reading and studying and adding bible ribbon bookmarks to my bible turned out to not only be decorative but functional.
These personal bible bookmarks also make me smile when I delve into my personal study.
(As an Amazon Associate I earn from qualifying purchases.  Please see my full disclosure here.)
The supplies are minimal, and if you are a crafter, you might have them on hand already… so let's get started making these personalized Ribbon Bookmarks for your Bible.
Personalized Ribbon Bookmarks

Supplies for Adding More Ribbons to Your Bible
Plastic Canvas  Any color will do since it will be hiding in the spine of your bible.
Assorted Satin Ribbons– Satin is best, but you can choose any kind you like.  I'd stay away from stiff ribbons that aren't easily bendable.  I chose soft and feminine colors.  If your ribbon is very thin and slips out easily,  I would knot it at the top.
These would make wonderful Christmas gifts for the gal who loves to study her bible.  Perhaps, make them for your women's bible study group or do it as a craft together!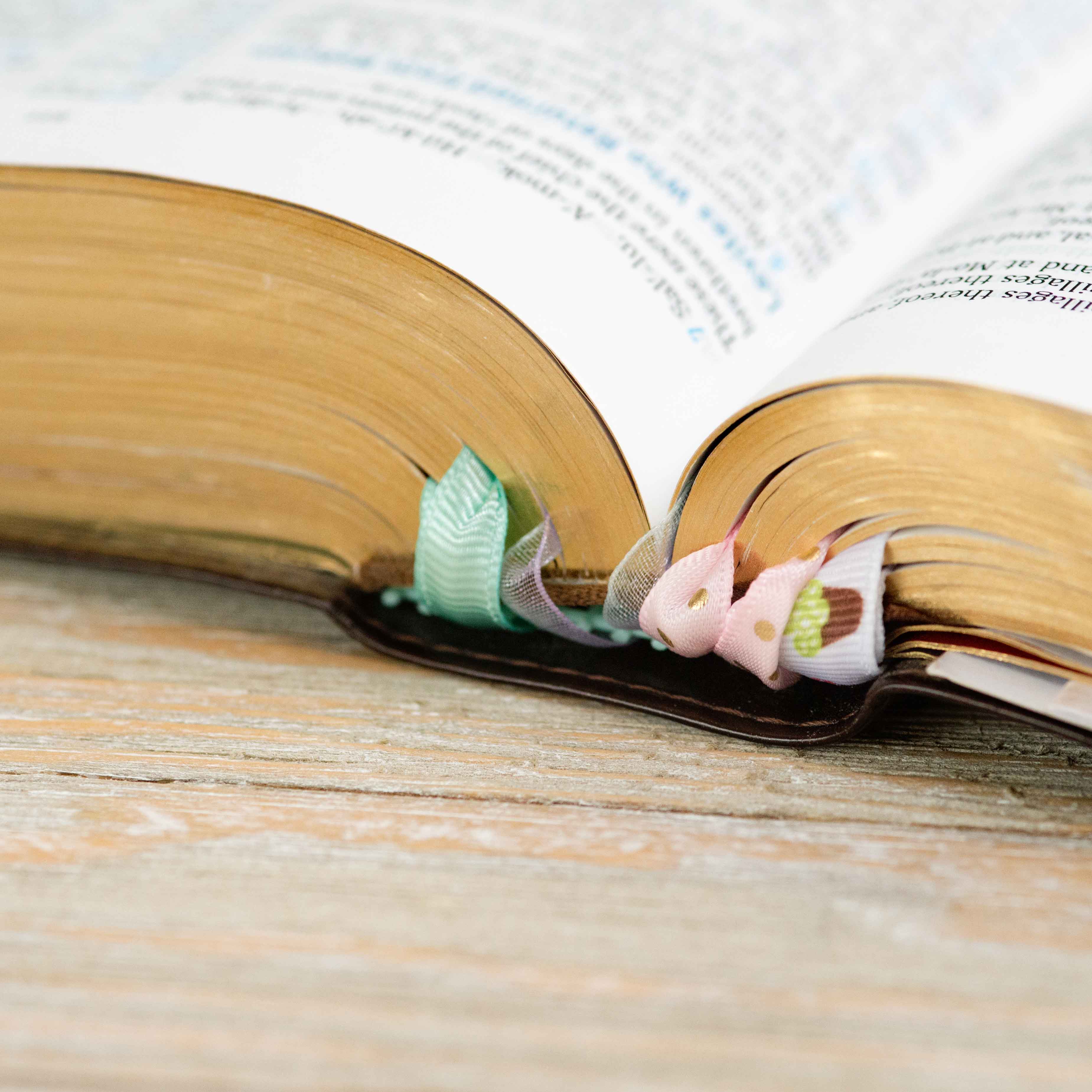 Measure
Measure the spine of your bible and cut out your plastic canvas the same width as your bible.  Cut off one row of holes and try to insert it into your binding to see how snug it fits.  If it is too tight,  don't force it.  Simply cut off one more row until it fits and isn't too tight or too loose.  If there is too much pressure, you might damage the bookbinding.  The length of your plastic canvas doesn't have to be the length of your bible. I have found that 2/3rds of the length works fine.
Hey Creative Sister! Check out these other Creative Resources!

Add Ribbons to Your Plastic Canvas
Slip your ribbons into the edge of your plastic canvas, skipping a square and centering as best as you can.  I tied my ribbons at first but found that it adds unneccesary bulk.  My ribbons have been in my bible (without knots) for over a year and have not slipped or fell out once.

Open your Bible and slip your bible ribbon bookmark into the spine.  Close slowly and adjust and cut down if neccesary so it's not too tight.  Take extra care to make sure there is no pulling or stretching of the binding.
It is my hope and prayer that this bible ribbon bookmarks tutorial will help make your bible studies more efficient!
SaveSave
SaveSave
SaveSave
SaveSave
SaveSaveSaveSave
SaveSave
SaveSave
SaveSave
SaveSaveSaveSaveSaveSaveSaveSaveSaveSaveSaveSaveSaveSave
SaveSave
SaveSave
SaveSave