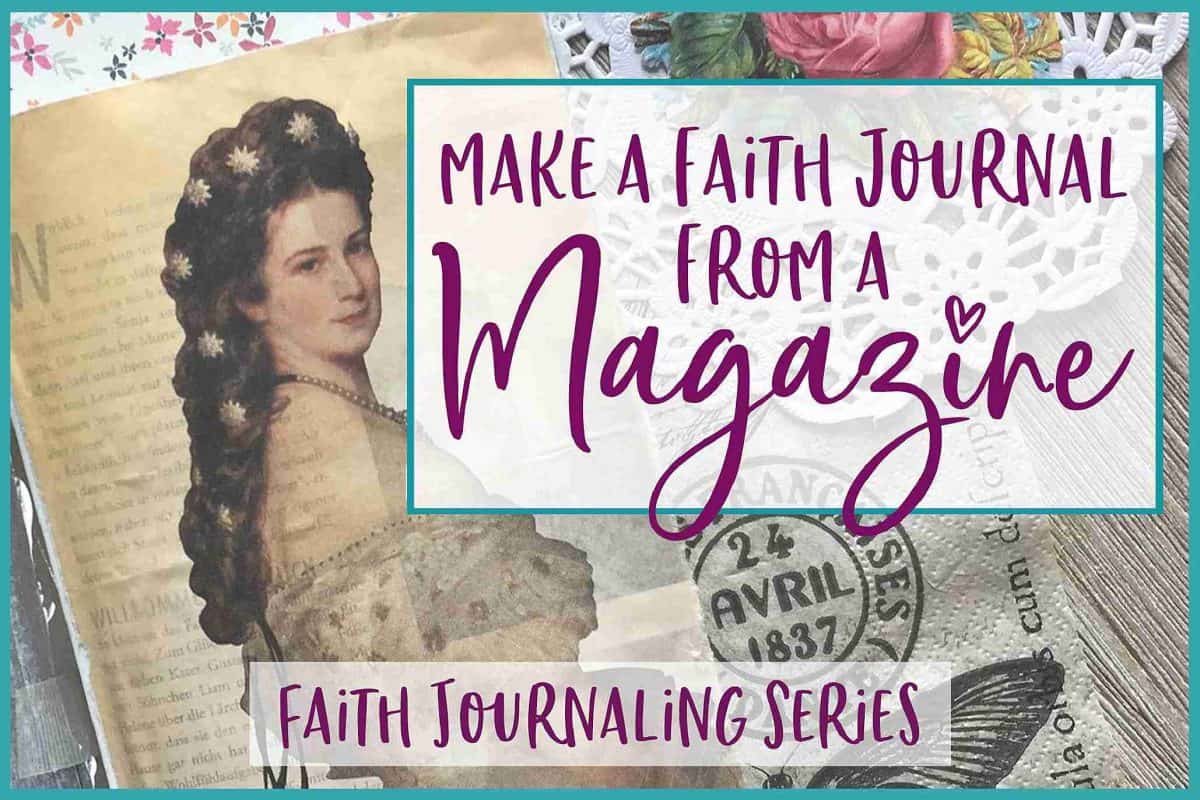 I love journaling. 
And I love quick projects.  
Today, I've got a quick and easy project that you can use for Scripture writing, prayer journaling, or faith journaling.
It's going to sound odd when I tell you we're making a journal from a magazine- but it's true.
Your finished journal from magazines will resemble a shabby chic traveler's style journal.
So let's get started on making this great project!
(As an Amazon Associate I earn from qualifying purchases.  Please see my full disclosure here.)
How to Choose Your Magazine- Journaling from a Magazine
There are so many magazines to choose from when Journaling from a Magazine. From florals to home decor to the cute style of a Daphne's Diary magazine, which type of themed magazine journaling will you make?
One thing to keep in mind when purchasing a magazine or pulling from your stash, is the type of paper you use and/or choose.
Slick magazine pages have more of a glare to them.
I prefer pages that are porous and don't have a glare when a light is shined upon them.
Another thing to consider is that paints and glue will stay on top of the surface with smooth magazine pages.
Porous magazine pages will grip your supplies better and have more 'tooth' for your supplies to adhere to.
If you don't have any porous page magazines,  don't let that stop you.
Use what you have on hand.
In the video below, you can see the two types of magazines and their page sheen.

Cutting Your DIY Journal Magazine to Size
Cutting your DIY journal magazine to size is easy and only takes a few minutes.
I use a cutting mat and an exacto knife.  If you don't have a cutting mat just be sure to cut on a surface that you will most likely ruin because you will be using quite a bit of pressure to cut through your journal.
I trimmed my magazine to about 8 5/8 by 11 3/4 inches.
I can't say this enough- Take extreme care while using an exacto knife so you don't have an accident and cut yourself!

How I Distress the Pages of my DIY journal from a magazine
How can you distress the pages of your DIY journal from a magazine to give them that shabby chic look?
I like to use either white acrylic paint or white gesso.  Either will work.  The finished result of gesso compared to acrylic paint look different so try both and see which you prefer.
If you want your pages to look nice and clean, you can leave the pages of your  journal in their original condition.
Below you'll find a video of how I distress my DIY faith journal pages.

Adding to Your DIY magazine junk journal
Adding doilies, paper, napkins, tags and ephemera to your DIY magazing junk journal is the fun part.
Save your bits and pieces of your trimmed down magazines to use the images as you collage.
You can also add paper by gluing it directly to your magazine journal pages or you can paper clip it or staple it in as seen in my final video below.
Making/Inserting Coffee Dyed Paper for your Travelers Notebook from a Magazine
I didn't include a video for how to coffee dye or tea dye papers to make them look vintage but for me it was an easy process.
I simply watered down some coffee and painted  on some gridded paper. Others bake theirs but I let mine air dry.
Easy peasy. I am going to try tea next time because the coffee smell lingers.
You can trim your pages down to your preferred size and washi tape them in, clip them in or staple them in for longevity.
Cover Your Faith Journal with Gift Paper (or other paper)

Trimming Down the Cover of Your DIY Journal Magazine
Now that you've let your cover paper  dry,  it's time to trim down the cover of your DIY journal magazine.
I started trimming the edges of my journal with an exacto knife but quickly realized that it wasn't a good idea.  I tore my pages and the edges looked awful.  I changed tactics and tore my edges with a straight ruler and have decided I'll always tear from here on out.
Lastly,  here's a flip through of my Shabby Chic  Faith Journal with more ephemera and elements added~I do hope to finish more pages of my journal as the days pass.  I really love
Hey Creative Sister!  Check out these other Creative Resources!  
Make your Own Journal from a Magazine
Are you ready to make a journal from a magazine for your faith journaling?
I can't wait to see your magazine journal!
Lastly,  here's a flip through of my faith journal for you to enjoy…