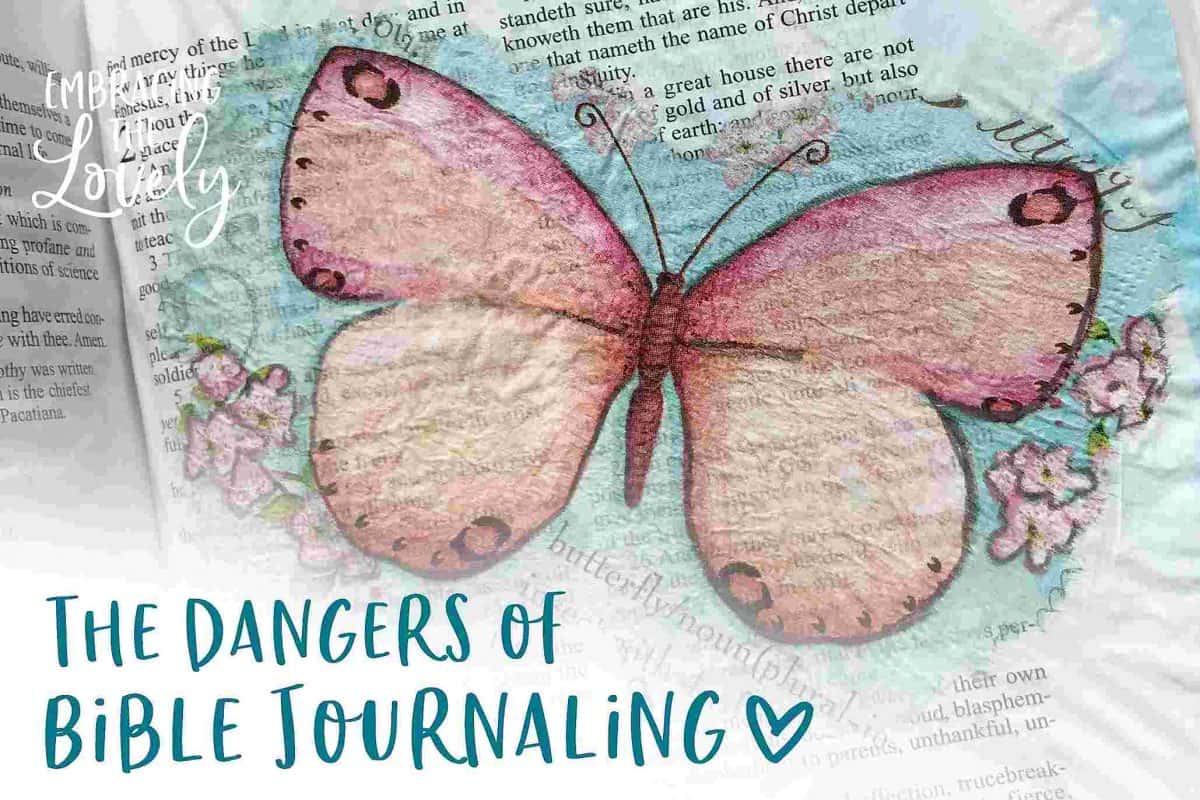 I have a creative blog. And I love to Bible journal and do creative Bible study.
So it would be an odd thing for me to do a blog post about the dangers of Bible journaling, right?
I mean that would be like shooting myself in the foot, wouldn't it?
But can we talk about the elephant in the room for just a bit, please?
You know. THAT elephant.
The Dangers of Bible Journaling
As I've journeyed various forums and facebook groups in the Bible art journaling and Bible journaling niche,  I've occasionally come across some troubling things in various forums and facebook groups.
Things that need to be spoken of in the light.
It is my personal belief that without the direction and help of the Holy Spirit,  things can go awry. Bible journaling should be a wonderful expression of our faith and should never HINDER our faith walk.
How would it hinder, you might ask?
Today,  I'd like to talk about the most common pitfalls that I have observed in the Bible journaling community.
Please don't misunderstand me here.  I am not pointing my self judging finger at all other Bible journalers.  NOT in the least bit.  You know the old saying- when you point a finger at someone else, there are three fingers pointing back at you.
And if I'm truthful,  I've been guilty of all/many of the points I'm going to mention below.  So, there's that!
(As an Amazon Associate I earn from qualifying purchases.  Please see my full disclosure here.)
DISCLAIMER:  I'm not calling anyone out.  No way.  If you've followed my online ministry you've come to see that I'm not a confrontational person.  But I am addressing a seed that satan tries to sow in the heart of Christ followers to make the wonderful art of Bible journaling become a fleshly pursuit.
I want to send a heartfelt thank you for my lovely readers whose quotes are included in this blog post. Thank you for sharing your heart with me!
Let's get on to the reasons why I think Bible Journaling might become a dangerous thing in your faith walk with the Lord.
Priority
One of the dangers of Bible journaling is priority.   Does the Word of God inspire the art or does the art inspire the word?  The focus of Bible journaling should be the word of God and not the art itself.
One of the dangers I find is sometimes I come up with an image, picture or art idea, and then try to find a passage to fit, instead of being inspired by the word I'm reading or studying.   When I pray for guidance on the message, not the art, then I become more focused and the word becomes clearer to what I should be understanding.   But I find it helps me not fall into the trap of doing my will not Gods.  -Maireanne Heath
Motives
Let's talk about motives.  Are we journaling for an Audience of One?  Are we concerned about how others will approve or dissaprove of our Bible journaling?  Even in Bible journaling,  it's so important to keep our eyes focused on the Lord, lest we turn something beneficial into something that can become carnal. My mind runs to the Corinthian church whose behaviour was becoming a 'look at me' show instead of pointing to our Lord Jesus.
Putting too much pressure on yourself.  You can end up not spending time with God or being in His word because you're too worried about what you should be journaling about or how much. It's supposed to be enjoyable,  not like hard work that turns you off instead.   Just let it flow.  -Kim Abel
Comparison
This is one of my pet peeves if I'm to be honest.  As I have perused thousands of Bible journaling posts in facebook groups. the ones with the beautiful artwork gets the most likes while the average gal who is simply connecting their faith and creativity go without a comment.  Is it about skill or expression?  If it's about expression, every creative sister should receive encouragement.
But I've mostly quit [Bible journaling] now. It was feeling competitive (my work wasn't "good enough " compared to what I saw on social media), and it was keeping me from my time with God.  -Maggie Orr
The Bible states talks about comparing ourselves to others.   Comparison is a dangerous sport to partake in.
Hey Creative Sister!  Check out these other Creative posts!  
Consumerism
But Lillian- you have a blog.  A blog that is monetized.  A blog that you receive income from.   That is 100% truth.
Creative Sister, I would be doing you a HUGE disservice if I ever pushed product on you urging you to the point where Bible journaling takes the place of reading and studying the word of God.
Our heart's desire should be God first.  Our motives DO matter.
It had started to feel like it was about consumerism and comparing myself to others, not about loving God and His Word. -Maggie Orr
Competition
Lila spoke of seeing beautiful pins on Pinterest with the possibility of pride and/or insecurity.
Comparison – especially to Pins [on Pinterest]   Pride or insecurity about sharing finished work of detailed artwork 2. Making it just another chore to check off the to-do list, legalism rather than relationship 3. Focusing on improving artwork rather than the message of the Bible verse.
Perfection
The desire to have Bible journalings that are perfect leads to putting ourselves before God.  It's not wrong to want to improve your creative art skills but the perpetual driving desire for perfection is exhausting.  Can we be satisfied with our current creative expression of worship without balking at our journalings?  Can we not murmur a negative word about how we could do better?  Can we be satisfied simply in praising the Lord?
I would have to say that the problem with Bible Journaling is that I want to be perfect.  -Brenda Gallup
Focusing on improving artwork rather than the message of the Bible verse.  -Lila Diller
Self Control
Some have an expendable income to purchase supplies and others do not.
It's really easy to find yourself wanting ALL the supplies and all the newest kits, materials and printables, and that costs money. There are many free resources out there – but even still, it's a real challenge. And especially when you're first starting out, it can be a struggle not to fall down into the money pit!  -Amy Cleaver from Mommy Muddling
Collecting too much supplies – that I will NEVER use.  -Sharon Linder
Bible Journaling Should Never Take The Place of Reading and Studying the Word of God
Bible journaling is a wonderful expression of our faith but should never substitute our daily Bible reading and studying the Word of God.  Our artistic expression should proclaim all that we have learned and absorbed in our time spent in the Word- not the other way around.
The Right Motives in Bible Journaling
I believe that, as in all things we pursue, even godly things, we need to examine our motivation and the end result.  Do we want to preserve our journey digging into God's Word, or do we want to be seen by others as more spiritual than we actually are?  Do we want to to use Journaling as a way to open our hearts to the Spirit of God, or do we actually end up distracting ourselves from hearing His Voice.  It would be a danger if your decorated Bible became an idol, became more important than the message it contains. Yet I see it to be a good thing if Bible Journaling just brings you joy in its meaning for you and in it's beauty.  -Eleanor Speakman
I'm checking my motives today asking the Lord to help me have the right motives in my creative expression.
When we walk in the Spirit our creative expression can be rooted in Him!
I'm ready Creative Sister!  I want my life to glorify Him in all that I do and I want to have the right motives before Him.
Won't you join me and go before the Lord asking him to be first and foremost as we create for Him?
There are so many wonderful women of faith who have inspired me incredibly.  There's Shanna at Illustrated Faith.  Without her ministry and online presence, I don't think Bible Art Journaling would have become what it is today.  It is through the posts at her lovely group I learned to couple my creativity and faith.  I love her products and use them often!