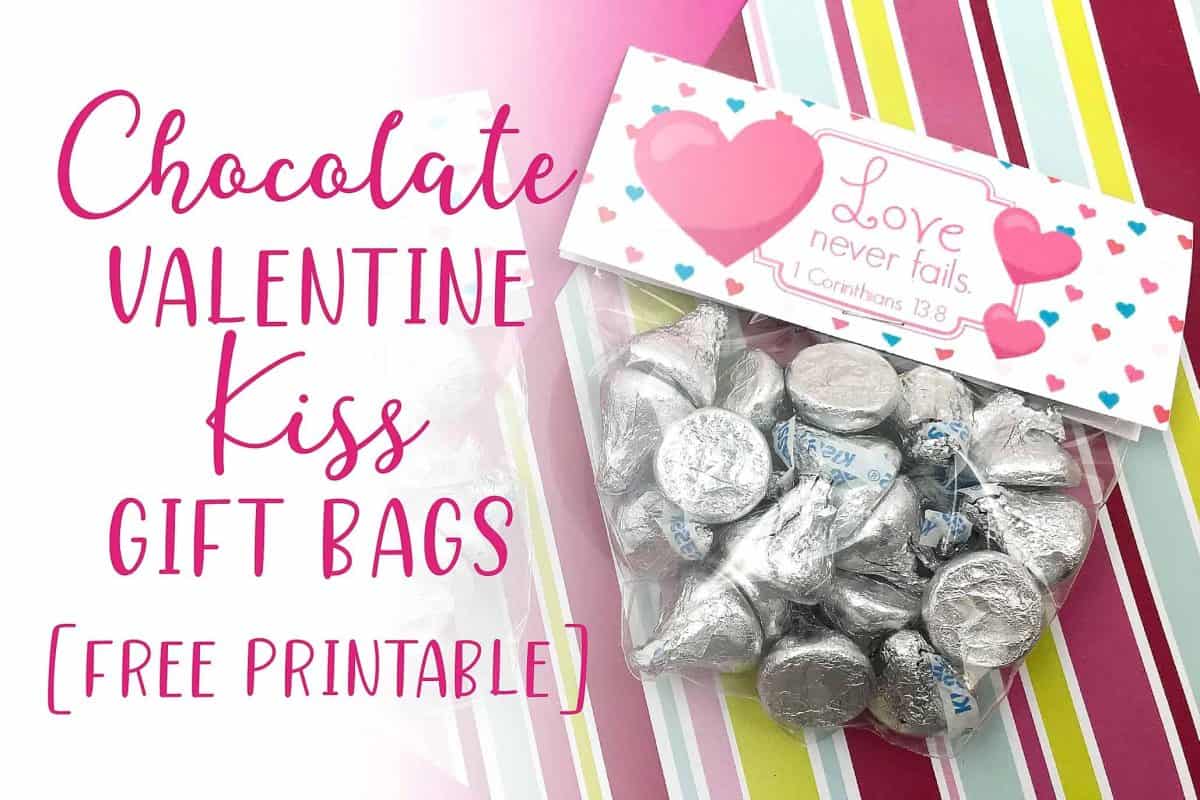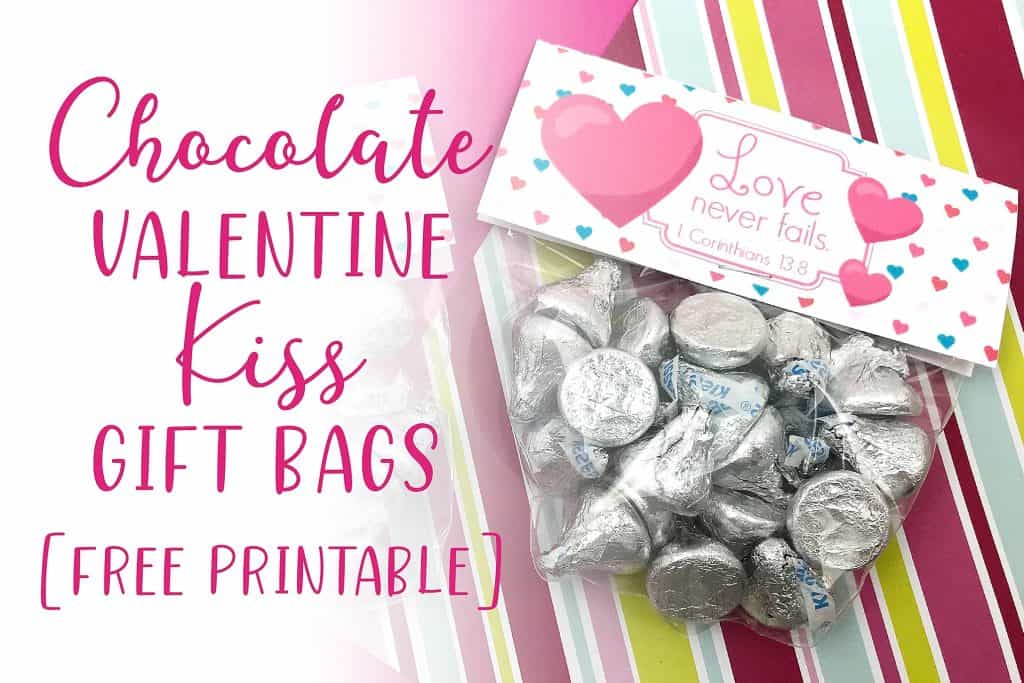 These Hershey Valentine Gifts are Perfect for Your Sweetheart for Valentines Day!  They Include a Chocolate Kiss Valentine Printable and are Sure to Delight your Loved Ones!
Hey Creative Sisters!
It's February- the month of love.
Everywhere we turn we see candy, cookies and CHOCOLATE!
Yup.  Chocolate.

It's no surprise that Hershey kisses were declared America's favorite chocolate- eliminating all doubt in my mind if there ever was one.
Couples will praise it's qualities as an aphrodisiac and Mom's everywhere will say that the sugar in the chocolate causes their kids to run around in overdrive.  LOL
If you ask the average woman (because we're the average women, right?) what their favorite gift for Valentine's Day,  they'd probably say chocolate.  And that genetic trait of loving chocolate is passed on to children, right?
(As an Amazon Associate I earn from qualifying purchases.  Please see my full disclosure here.)
Valentine Kiss Craft- Chocolate Kiss Valentine Printable
With the help of a friend,  I came up with this Valentine Kiss Craft that is perfect for adults and children's alike!
They are faith based and perfect for the classroom Valentine party!
This Easy Chocolate Valentine Gift is Sure to be a Hit this Valentines Day for your Sweetheart!
Hershey Kiss Valentine Gifts-  Chocolate Kiss Valentine Printables
These Hershey Kiss Valentine Gifts are perfect for Valentines Day for Both Adults and Children!  They Include a Chocolate Kiss Valentine Printable and are Sure to Delight your Loved One!
Make sure to scroll down and sign up for your FREE printable!
Fun things To Do with Your Valentine Hershey Chocolate Gifts
What are the Fun things that you can do with your Valentine Hershey Chocolate Gifts?
I've got some ideas for both kids and adults alike!
Valentine Ideas For Kids
Make enough for your children's classroom students and pass them out to share God's love with them.
Pass them out to all of your friends in the neighborhood
Pass them out to your friends and family
Use them as party favors for your Valentine's day party
Valentine Ideas For Adults
A kiss for a kiss.  Give a literal kiss to your sweetheart in exchange for a sweet chocolate kiss
Link arms (like for your wedding toast) and feed each other a kiss simultaneously
Pass them out to your friends because EVERYONE loves chocolate and Valentine's day can be for friends too!
I can't fail to mention that it would be so much fun to have a pre Valentine's day get together and assemble these with your loved ones.
Just make sure to buy a few EXTRA bags of Hershey kisses for testing purposes.  🙂
Are you ready to take your custom hershey kiss valentine craft gift skills to the next level?  lol
Let's do this!
Related Post:  Make this Mixed Media Love Scripture Tag For Your Valentine
Hershey Kiss Valentine Craft Supplies
There are a few supplies that you will need, most of which you probably already have on hand-
Hershey Kisses–  You can use another type of chocolate but Hershey kisses are oh so appropriate for your sweetheart on Valentine's Day, don't you think!
Zipper Snack Bags were used in this project but you might be able to use these Ziploc Snack Bags– end product may vary since I'm not sure of the measurement.
Stapler of your choice
Printable provided in this blog post (scroll down to get your printable in the FREE resource library)
Instructions to Make Your Easy Chocolate Valentine Gift 
Download your chocolate kiss valentine printable and print out as many as you will need.
Cut out your Valentine kiss craft printable
Zip your baggie most of the way shut but leave enough room to slip in enough Hershey kisses to fill it up.
Fold your printable in half and staple it onto the top of the bag while leaving an opening to insert the chocolate kisses.
Insert the chocolate kisses and ecure with one more staple
Congratulations!  Your chocolate Valentine toppers are ready for distribution!
These sweet Hershey Valentine gifts are Sure to Be a Hit and I'd love to hear how your Valentines loved them so please make sure to leave a comment or find me over on my Facebook page.
Hey Creative Sister!  Check out these other Creative posts!