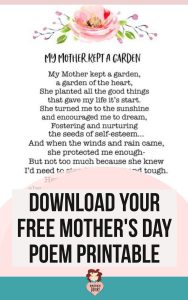 [Download your Free Printable Mother's Day Poem Today]
Hey Creative Sister!
I know you love your Mom and it's so important to express our feelings to our sweet Mom's so they know we are so thankful for all that they have done for us.
That's why I've created this Free Printable Mother's Day Poem for you to print out and gift to your sweet Mom!
Sometimes the words are difficult to express our gratitutde towards our Moms, and I feel this happy mother's day poem says it better than I ever could.
(As an Amazon Associate I earn from qualifying purchases. See my full disclosure here.)
This Happy Mother's Day Poem is My Gift to You!
Download your full size 8 1/2 by 11 Mother's day printable by clicking HERE.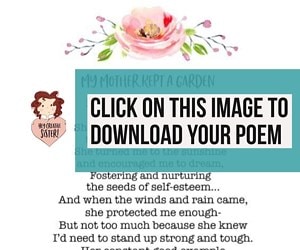 It is my prayer that this free printable Mother's Day poem is a blessing to you!