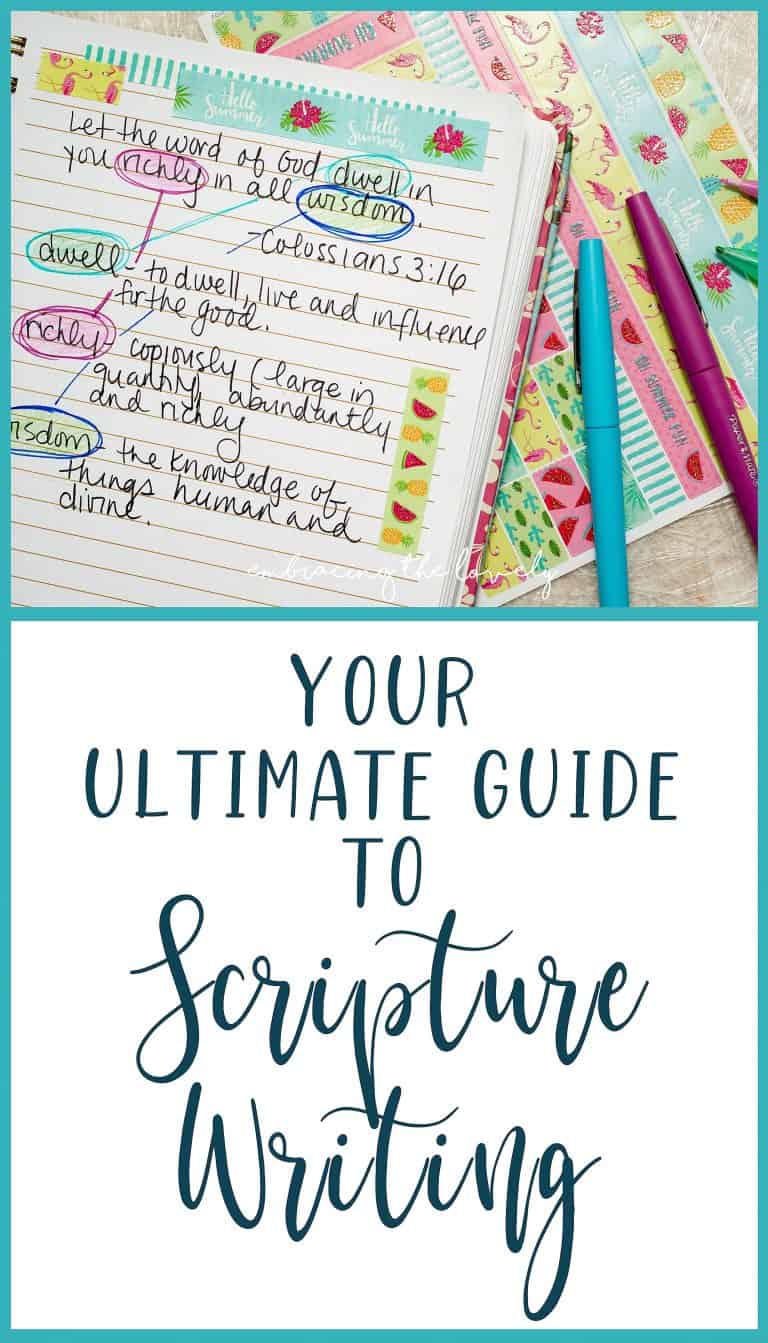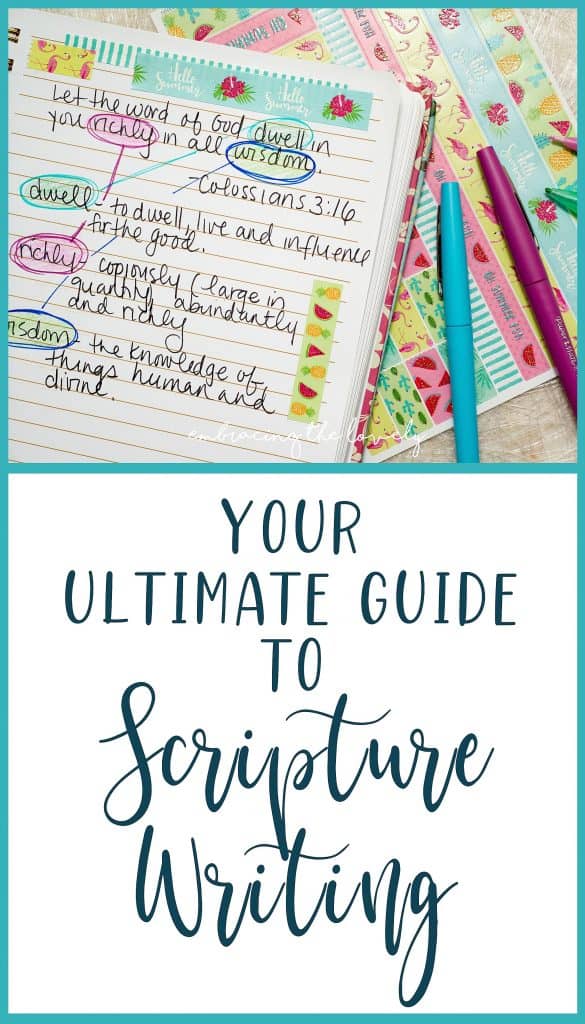 Welcome to the Ultimate Guide to Scripture Writing!  It is my heart's desire to share about Scripture writing and how it has helped me creatively grow my faith.
What is Scripture Writing and What are it's benefits?
Why would a person want to hand copy Scripture and what are the benefits?
Scripture writing is a powerful way to absorb God's word by manually writing the word of God that helps us to retain it.
Thy word have I hid in my heart.
Psalm 119:11 says "Thy word have I hid in mine heart, that I might not sin against thee".
The Hebrew word for hid is צָפַן tsâphan which means to hide or to treasure.  The Brown-Driver-Briggs definition is to lie hidden and to hide from discovery.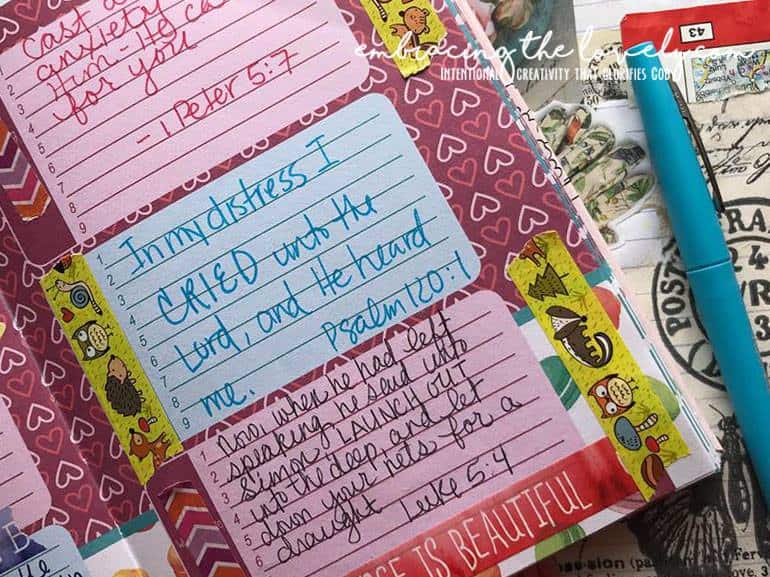 Are you hiding and treasuring the word of God in your heart so you won't sin against the Lord? Is the word of God embedded in your heart that it is hidden from discovery?
Scripture writing is one more weapon in the arsenal of hiding God's word in your heart!
By adding another facet of engagement in absorbing God's word,  it helps us to focus on His God breathed word and apply it to our life.
And that, lovely friend, is what it's all about- connecting to God through His Word.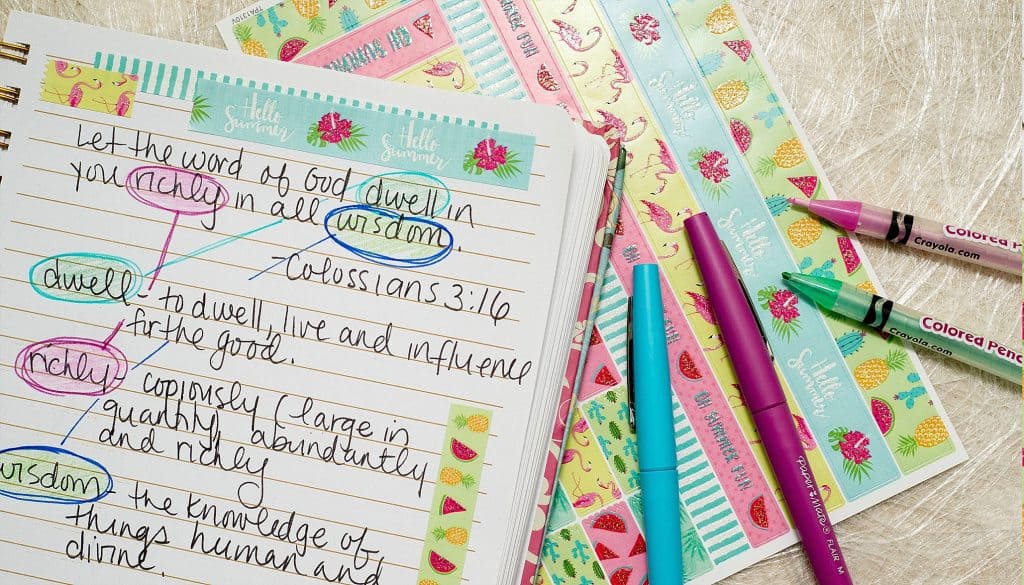 (As an Amazon Associate I earn from qualifying purchases.  Please see my full disclosure here.)
The Benefits of Writing Bible Verses by Hand- Writing Scripture Daily
What are the benefits of writing Bible verses by Hand?
Reading alone can sometimes lack dimension.  I'll be the first to admit that I sometimes rush over what I'm reading which results in zero absorption of God's truth.  Stopping to read and write helps your brain to fully engage and increases learning comprehension.
Taking the time to read and write gets you to pause and really think about the word of God and how to apply it to your life.
As David played the harp for King Saul,  reading and writing Scripture daily can calm our troubled hearts and mind.
Scripture Writing Tips for Writing Scripture By Hand
My first tip for writing Scripture by Hand would be to not let perfectionism get in the way.  Just grab some notebook paper,  a steno pad or a pretty journal.
The first step is just getting started.
And, if you make a mistake- so what?  Your Scripture writing is your offering to the Lord from a heart who simply wants to get closer to God through His word.  Don't let satan catch you in the trap of perfection.
Accepting that mistakes are inevitable will  help alleviate perfection paralysis.
Hand Writing Bible Verses- Plans for Scripture Writing
There are so many Scripture writing plans that abound on the internet.
I have my own topical Scripture writing plans that you can sign up for below.
Starla is not only a great friend but a faithful blogger who posts regular Scripture writing plans over on her website.
Sweet Blessings is another inspirational Scripture writer with tons of plans on her blog.
Angela at the Diligent Woman has a variety of Scripture Writing plans that might interest you as well.
Example of Creative Scripture Writing
There are so many examples of creative Scripture writing on Instagram and I want to share them with you to get your creative juices flowing.  These creative Scripture writers are so inspiring!
Justjoplans is a Hawaiian based creative who combines her love for planning with her Scripture writing.
SarahLynn's impeccable writing and lovely Scripture writing journalings (and notes) bring such pleasure to my newsfeed.  She uses a ring bound Happy Planner 
https://www.instagram.com/p/Bs1K4lyhm8H/
Karenscraps journaling and Scripture writing style is out of this world!  Beautiful bold colors with colorful vignettes that are painted, glued and stamped in.   It's a visual delight!  Karen uses tons of beautiful Illustrated Faith ephemera and Bible journaling supplies.

My Favorite Scripture Writing Journals
What kind of Scripture writing journals should you use?
Hey Creative Sister!  Check out these other Creative posts!  
Let your imagination run wild on this one!
I've used expired planners,  simple staple bound books that I've added some mixed media applications to and wire bound journals.
I do love the wire bound journals the best since they are durable and easy to carry around.
My Favorite Scripture Writing Pens
Time and time again, I turn to my trusty Paper Mate Flair markers.  I use them in my micro Bible journaling and I also use them in my Scripture writing.  The colors are lovely and I love their thicker point.  All of my own images in this blog post use Paper Mate Flairs.
Scripture Writing Supplies to add Fun
I love that my creative supplies can also translate well over to Scripture writing supplies.
I'm a sticker addict, what can I say?
I love to add faith stickers of all sorts to my Scripture Writing, washi tape for a splash of color and I also love to use planner stickers.
That about covers it, lovely friends!
Are you a writer of Scripture or are you looking to start Scripture writing to grow your creative faith?
It is my prayer that this ultimate guide to Scripture writing has given you information to help you get started in writing out Bible verses to embed them in your heart and mind.
Check out all the Scripture Writing Posts at Hey Creative Sister!
What is Scripture Writing and How to Get Started
My Favorite Scripture Writing Resources 
New Beginnings Scripture Writing Plan 
Bible Verses for Joy (Joy Scripture Writing Plan) 
Bible Verses of Faith (Faith Scripture Writing Plan)
Bible Verses of Grace Scripture Writing Plan
Bible Verses of Encouragement (Encouragement Scripture Writing Plan)
Resurrection Scripture Writing Plan
Thanksgiving Scriptures in the Bible (Gratitude Scripture Writing Plan)
Christmas Scripture Writing Plan (The Christmas Account in the Scripture)
How to do Digital Scripture Writing 

https://youtu.be/q-j6m33sDnM