An Easy Rock Painting Tutorial for Beginners
Rock painting. The trend is big. Maybe you've seen a painted rock in person or seen some posted online.
All over the nation, families and communities are gathering together to paint rocks with brightly colored designs.
(As an Amazon Associate I earn from qualifying purchases. Please see my full disclosure here.)
What's the purpose of rock painting? It's a community effort where people paint rocks and then go out rock hunting, or as I like to call it, rock geocaching.. People hide their rocks in a public place, take a pic of the location and post it in online communities for other people to see the hint and go on a painted rock 'hide and seek'. Finders take a picture of the found rock to post it on social media. As a way of paying it forward, the finder will either rehide the same rock in close proximity or replace it with one of their own. And the cycle continues… It's just plain fun!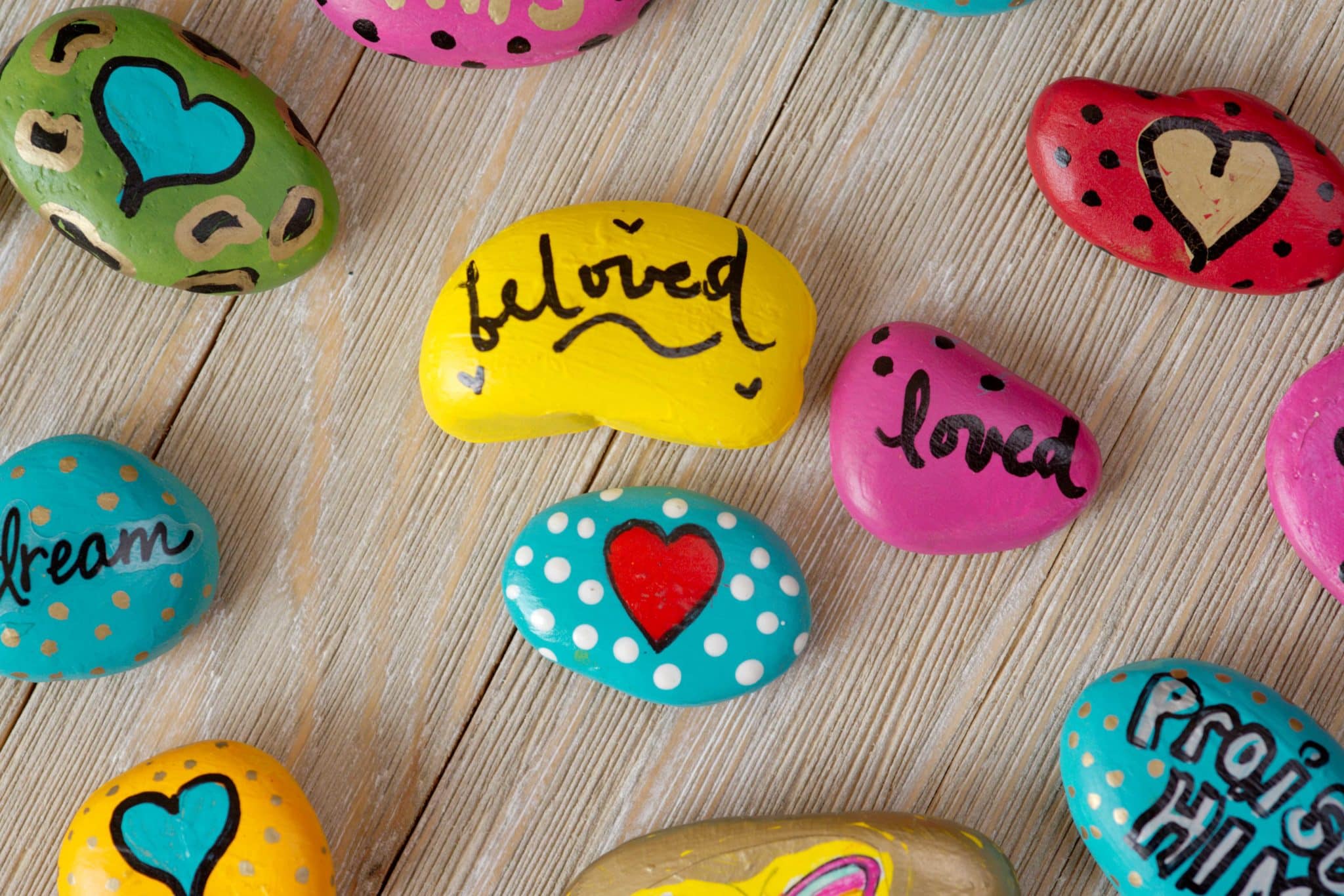 Rock painting is a relatively cheap hobby and takes very few supplies.
Here are the supplies I've used and a rock painting tutorial for you to create the rocks you see posted throughout this blog post:
Acrylic paint
Paint brushes
Oil based markers- these, these and these come in a wonderful array of beautiful colors
Stickers
Acrylic spray (to seal)
Nail dotting sets (to make dots)
Simple Rock Painting is Fun!
Step by Step Tutorial for Rock Painting
Choose your Rocks
These can be purchased at a dollar store or home store or at Amazon. You can even use random stones found on your family walks or hikes.
Wash
If your rocks are smooth and shiny they have possibly been treated with wax or oil. As a preventative measure, wash or voil them to remove any coating. For natural rocks, rinse your rocks and remove any dirt/debris and let dry thoroughly.
Paint
I paint many rocks at one time, so I am able to work in cycles and save time compared to working on one rock at a time. I used a coat of gesso on a few of my rocks and others just added multiple coats of the color of my choice. Either one worked for me. Paint the top and let dry thoroughly. Flip over, paint the flip side and let dry. Paint the sides, if neccesary. Repeat coats of paint if neccesary. Perfection is overrated- just go with the flow and have fun. Don't worry about brush marks on your rocks since it just gives them character. If mistakes bother you, you can always repaint if need be. If you want to hasten the drying process, you can use a neat gun.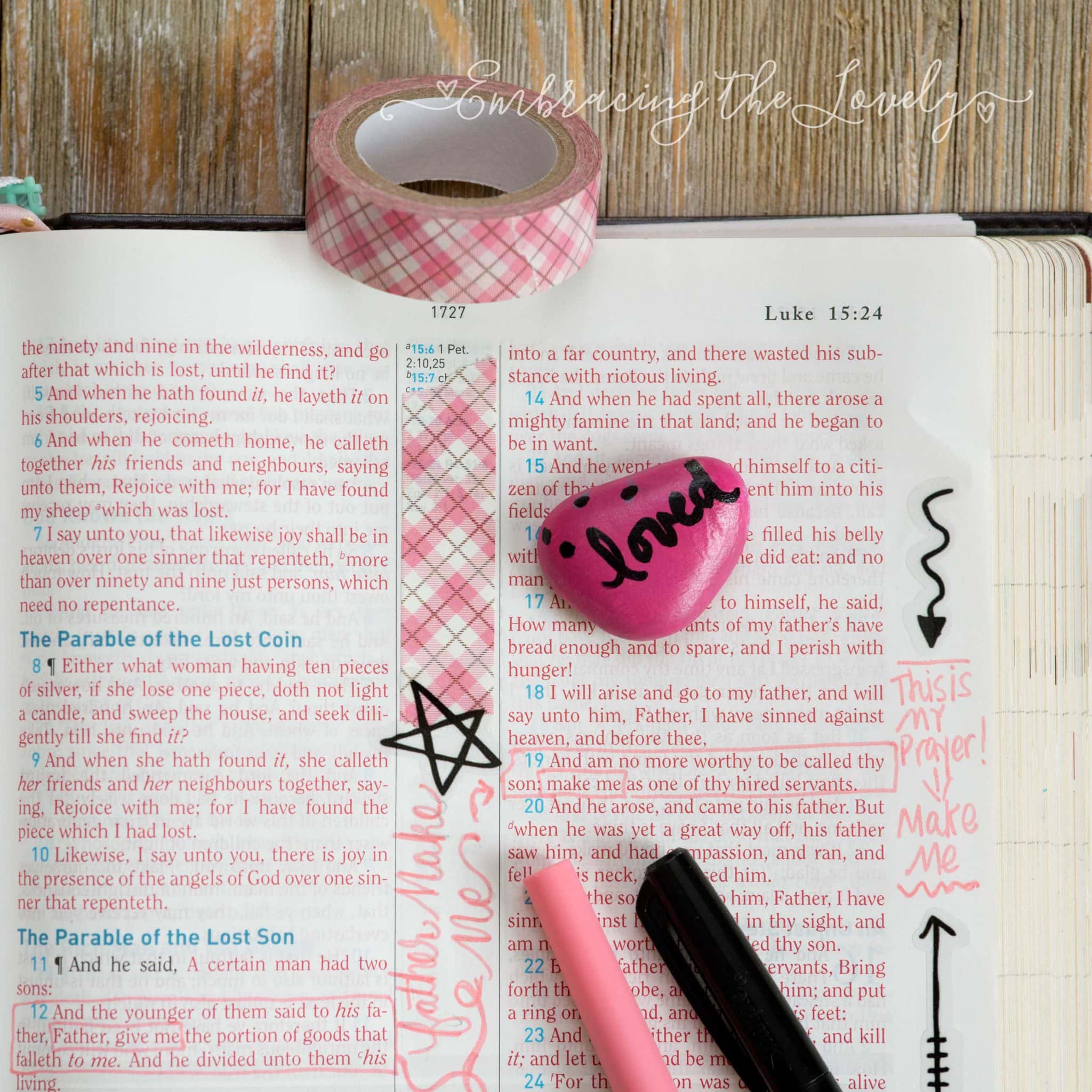 Decorate
This is my favorite part! Draw your designs on your rock or you can paint freehand. Paint with acrylic paint or oil based markers. His is where I make a plug for oil based markers. They are heavy and cover a multitude of flaws. They paint smoothly. If you overlooked mistakes from the last step, you can fix that now. And it's still okay to leave them imperfect. If you'd like to make polka dots, you can use the end of a crochet hook or eraser. If you really want to gild the lily, you can buy these nail painting sets with ends in various tip sizes for different sized polka dots. I also did some experimenting with using stickers as well and love how they turned out. Let your rocks dry thoroughly.
Seal
Spray glaze seals your paint and keeps your rock weatherproof.
I've found the easiest way to spray your rocks is by shaking the can and spray VERY lightly- and I do mean very lightly. If you spray too heavily, your painted design will run. Test a sample rock first to see how your glaze reacts to the paint you used. You can always do a second or third light coat, letting the, dry thoroughly between coats.
That was easy, wasn't it?
Spreading the Gospel
Another wonderful benefit of Rock Painting is spreading the gospel. Inspirational words, scriptures and #hashtags can be painted on your rocks and shared with your community. I won't go into detail now because I'm saving that for my next rock painting blog post!
You can check out some other super rock painting tutorials at Colorful Crafts and and the Postman's Knock.
SaveSave
SaveSave
SaveSave