Spread the Gospel with Easy Rock Painting
Can you really plant a seed in the heart of person with something so silly as easy rock painting?
I remember…
…the sign on the side of the freeway. It read "Jesus is the Answer" and I would wonder "Is He MY answer… and what was He the answer to?"
…an elderly woman giving me my first pocket bible as a young girl and encouraging me to read it daily.
…that same elderly woman explaining the plan of salvation to me.
…a revival with my great aunt at a very young age and wondering what everyone was getting so excited about while watching everyone around me rejoicing.
God reached out by presenting His gospel to me in small ways.
The seed of the gospel was germinating inside my heart, trying to pop it's head above ground without success… until the day came where the truth was shared with me and I finally surrendered my life to the Lord. The Lord brought my first Pastor into my life to disciple me.
(As an Amazon Associate I earn from qualifying purchases. Please see my full disclosure here.)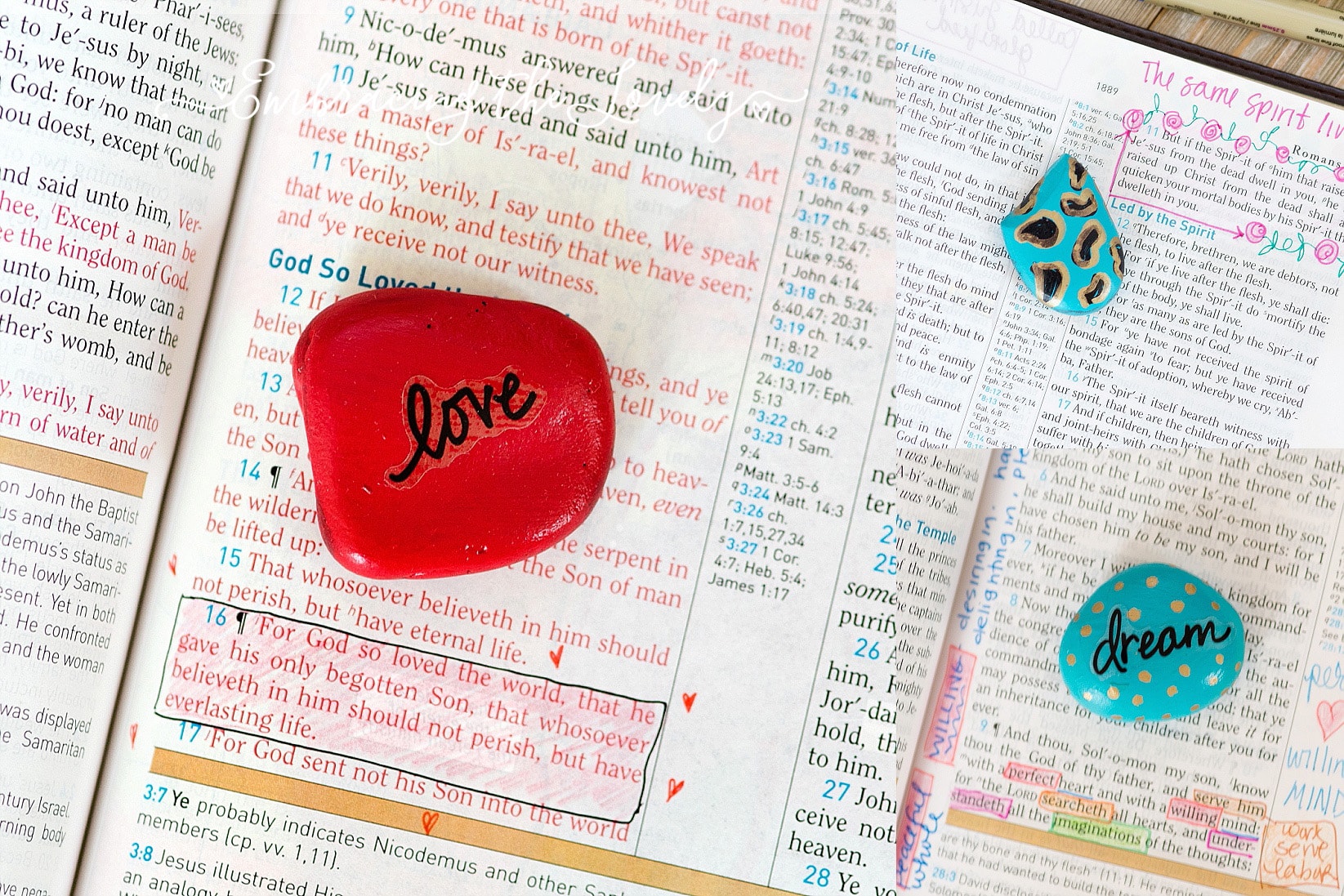 When Jesus was at the Mount of Olives, many of His disciples were praising God because of all the wonderful works that they had seen Him do.
"Blessed is He who comes in the name of the Lord".
"Glory in the Highest".
The Pharisees, who saw the disciples praising the Lord, told Jesus to tell them to shut up. And Jesus said something profound.

And he (Jesus) answered and said unto them, I tell you that, if these should hold their peace, the stones would immediately cry out. (Luke 19:41)
If His followers contained the praise that was springing up in their soul, the rocks would literally cry out. The word 'cry out' in the Greek κράζω krazō G2896
G2896 means to cry aloud, speak with a loud voice, to shriek, exclaim or intreat.
I don't know about you… but I want the praise of the Lord to always be on my lips.
I don't want any rock to outpraise me and I'm sure you agree!
Jesus can touch the hearts of those who need Him in so many ways. One of those ways can be through rock painting.
Rock Painting Ideas to Spread the Gospel
Include your gospel message on your rocks. You can include scriptures, phrases and quotes on your painted rocks. My writing space is limited since my painted rocks are about an inch long, But the words 'believe', 'love', 'John 3:16' will hopefully give the finder a time to process the gospel message and (hopefully) go to their bible to read God's truth!
#Hashtag
The wonder of the ubiquitous hashtag! On the bottom side of your rock, include a hashtag that is unique to your facebook page, a public facebook post, an IG post or blog post that finders can type into google and read your testimony and the plan of salvation. What about #faithrocks #rockpaintingart #praiserocks #easyrockpainting, #christianrockpainting. Truly, the modern day Romans Road is now digital. There are so many ways we can share the love of Jesus to those who do not know Him. We should never underestimate the word of God going out to those who need Him. If He spoke through a donkey, can He not speak through a painted rock?
Yes, He can!

Will you allow the rocks to cry out in your place? Go ahead and let your painted rocks cry out…But make sure you don't forget to praise Him too!
May the Lord use the creative works of our hands to bring souls into His kingdom!
I'd love to hear from you so please leave a comment! If you'd like for me to pray for you, you can leave a comment or join our weekly Sunday prayer over at the facebook page!
I look forward to seeing you there!

Save
Save
Save
Save
SaveSave
SaveSave
SaveSave
SaveSave
SaveSave
SaveSave
SaveSave
SaveSave
SaveSave