6 Creative and Effective Bible Study Methods to Grow Your Faith
To Grow Closer to the Heart of God. That's our desire, isn't it?
And for Creatives, ordinary Bible Study Methods can sometimes seem a bit lackluster.
I've tried various ways to study over the years and always come back to these tried and true methods that plunge me deeper into the Word of God.
I have compiled these 6 Creative Bible Study Methods and it is my prayer that they are a blessing to you!
6 Bible Study Techniques for Spiritual Growth

Micro Bible Journaling
Micro Bible Journaling- Micro Bible Journaling is my favorite form of study using whatever bible I have on hand. It's quick, needs very few supplies and you need very little space. I love that it reinforces God's word in my heart as I daily read and study. Micro Bible Journaling can include declarations of praise, prayers, and applications- really anything that is notable in my walk with the Lord. My Bible so become a sort of journal hallmarking my victories through the Lord.
(As an Amazon Associate I earn from qualifying purchases. See my full disclosure here.)
Scripture Writing
Scripture Writing is a wonderful way to solidify God's word into your heart. For some, reading isn't enough. There's something about taking that God breathed scripture, writing it down and reinforcing it in your heart in a way that will help you memorize and digest it.
Topical Bible Study
In a Topical Bible Study, I take a topic that interests me and look up all of the scriptures that are mentioned in the Bible on that topic. A great example would be the topic of God's Love to His children. Then I do word studies on various words that stand out to me which give some great insight into God's heart for me.
Bible Study by Book
This is another favorite study method of mine. Studying an entire book consists of studying the historical setting, the cultural setting and then reading through the book multiple times, assigning a chapter title to each book. Then I divide the book into an outline form and then breaking it down into sub points. It really gives an overall birds eye view and is the most thorough type of study. Coupling a topical study with Word Study is very effective.
Word Study in the Hebrew and Greek
Word Studies are a beneficial way to really dig into God's word. Do we pour other meanings into the words we read or are we allowing the Word of God to stand on it's own? The Hebrew and Greek will open your eyes to what God is saying to you.
If you're looking to do word studies, the Blue Letter bible is the online version of the Greek/Hebrew Strong's Concordance. And it's free!


Devotional Printables for Spiritual Growth
Devotional Printable are an easy way to to streamline your quiet time but still dig into the word daily.
I've got a Free Lovely Day Devotional Printable that focuses on three things for your quiet time: How God spoke to you in your Daily Bible Reading, expressing your heart in prayer and how you can minister to others.
Verse Mapping
Verse Mapping is a more in depth form of word study that personalizes the word of God to you. It is usually written out by hand but you can also see my digital verse mapping at left. I highlight in different colors who the verse is speaking to and also do the same for my Greek and Hebrew word studies.
Context is Key
A good rule of thumb is to ask yourself these questions:
Who was Jesus talking to/who does this verse apply to?
What was the main subject of the book and this specific verse?
Where was this book written and who was it written to?
When was it written?
Why was it written?
How does this verse affect my life and How can I apply it?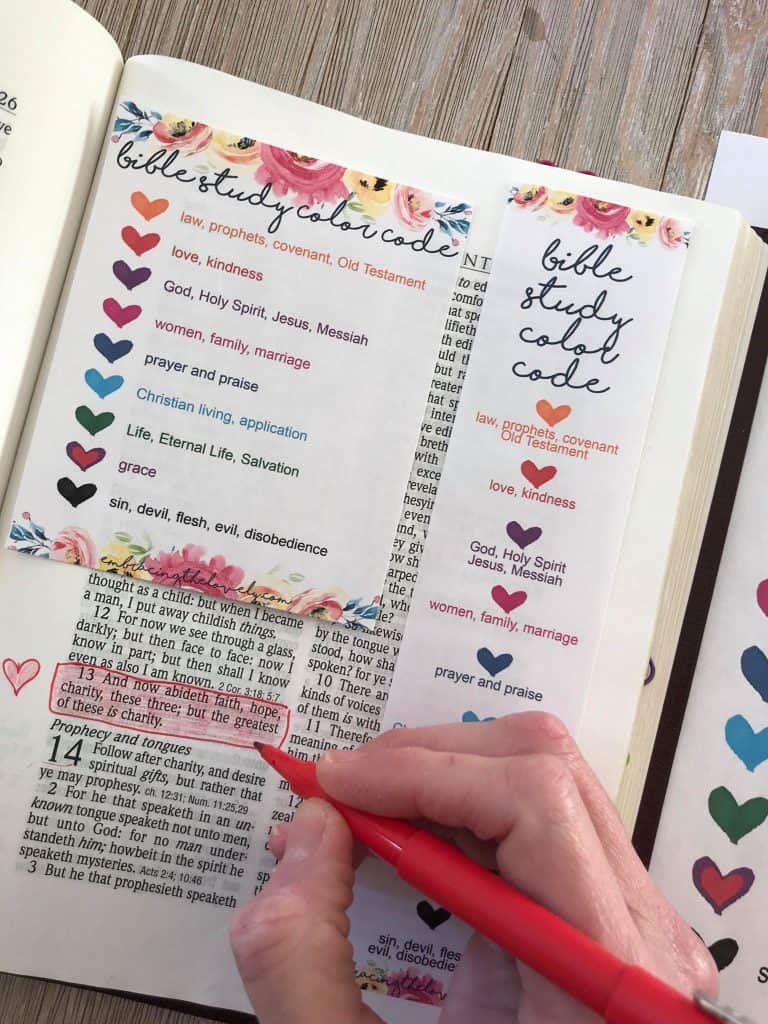 Bible Study Color Code Bonus Method!
If you're looking to get into creative Bible study in an easy manner, using this Bible Study Color Code is a perfect way to get started.
Check it out HERE.
Bible Journaling
While not being a bible study method, I have to mention it here because we are creatives, right? What better way is there to express your joy and growth in the Lord than with the talents He has given you?
Unique Creative Methods of Bible Study?
Have you tried any of these creative methods of Bible study?
If so, which do you like the best? Let me know in the comments below!
SaveSave
SaveSave
SaveSave
SaveSave
SaveSave
SaveSave
SaveSave
SaveSave
SaveSave
SaveSave
SaveSave
SaveSave
SaveSave
SaveSave